Microsoft Windows 10 Pro | Download
$35.00
Description
Windows 10 was developed using feedback from millions of people, so you can feel confident that Windows 10 works the way you want it to. Additionally, Windows 10 helps you stay current for a worry-free experience with the greatest features and our latest protection against viruses, phishing and malware. A web that works the way you do. The all-new browser is great for getting things done online. Write or type directly on webpages and easily share the mark-ups; you'll also like reading online articles free of distractions. The address bar gives you personalized recommendations to get you quickly to your online destination.
Take your gaming further.

Great Xbox titles, the best of Xbox Live, and your Xbox community, achievements, and game collection via the Xbox app. You can even use your Xbox controller and stream Xbox One games on your home Windows 10 PC, laptop, or tablet. (1)

Do things across your devices.

Take your movies, music, and photos with you across all your devices with OneDrive. Plus, with OneDrive, you get 15GB of free storage space.

Do things magically.

Cortana (2) is your truly personal digital assistant who learns more about you over time. Cortana works across all your devices, from phone to tablet to PC, to help you do more and forget less.
(1) Features only available in supported games in Xbox Live supported countries. See xbox.com/live/countries. Limited number of games available in 2015 support cross-device play; additional games to follow. Stream to one device at a time; streaming with multiplayer from Xbox One requires network connection and Xbox Live Gold membership (sold separately); Gold also required for multiplayer play on Xbox One. DirectX 12 only available with supported games and graphics chips.
(2) Cortana available in select global markets at launch. Cortana experience may vary by region and device.
Production Instruction:
COA Sticker Window 10 Key Only
License Type: One Time online activate (Lifetime use)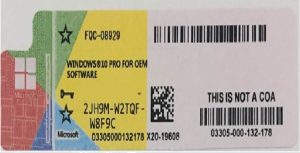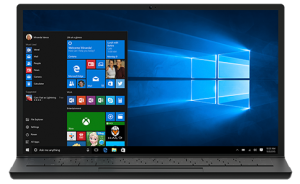 Before you buy, please read these notes and FAQ!
– This is product key only.
– Cannot be used to directly upgrade from an older operating system
– Requires a clean installation, and all prior data must be backed up
– Will not allow for a change to a different motherboard model or hard drive once installed
Can I directly upgrade from an older operating system?
No, you cannot. A clean installation is required.
What is a clean installation?
A clean installation means formatting your hard drive before installing Windows, so make sure that you have backed up your files.
1. Download media creation tool
https://www.microsoft.com/en-hk/software-download/windows10
2. Run the media creation tool
– Create installation media for another PC
– Select the preferred language
– Select Edition: Windows 10 (it includes both, Pro and Home)
– Select architecture (64-bit or 32-bit)
– Select the media you want to create (USB flash drive or ISO file to create a DVD)
3. Perform a clean installation
– Boot from the USB flash drive or the DVD
– Select your language, time, and keyboard preferences
– Enter product key
– Installation type: Custom: Install Windows only (advanced)
– Remove all partitions (this deletes all your data!) and create a new one to install Windows
Note:
To avoid any issues in the redemption process, redeem the code without any network connectivity (unplug cable, disable wireless)